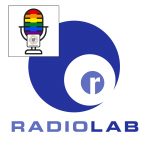 This episode is a collaboration with Radiolab. Produced by WNYC Studios in New York and a true pillar in the podcast world.
The episode we will be listening to is called Oliver Sipple, and tells the little-known story about a hero that saved a president's life but never got to taste the sweetness of fame.
This episode was first published in the radiolab-feed in September 2017.
This will be a place where you can listen to all time favorites and discover new shows that you never heard of. It will be a new podcast every day but the joint theme is that all episodes will have a queer theme, regardless if the show is queer or not in general.


Webpages to visit:
WorldPride Pod Stage webpage: www.worldpridepodstage.com
World Pride 2021: https://copenhagen2021.com/
Radiolab original episode: https://www.wnycstudios.org/podcasts/radiolab/articles/oliver-sipple
Produced by Bonnier News Brand Studio
Podcast host: Yaël Pool.
Production and editing: Pelle Estborn
Web page and graphics Marcus Kilander and Frida Diaz